THINKING MAPS
A Shared Visual Language for Learning
Are you ready to accelerate learning across every class and grade level? Your Thinking Maps journey starts here, with the core Thinking Maps methodology, training and teacher materials.
Case Studies & Testimonials
When everyone is using the same language, the students own the strategies. It becomes automatic for them. When they see a problem in front of them, they know how to reach for the right Map to work through their thinking.
Alexa Sorden, Founding Principal
Concourse Village Elementary
Thinking Maps has changed the culture of our school. There is more enthusiasm for learning, and students and teachers are having deeper dialogs in the classroom.
Anthony Pietrangeli, Principal
Kenilworth Elementary
Thinking Maps gave our kids continuity in academic language and thinking, from Kindergarten on up. Now we have more time to focus on content, because the kids already have that structure for learning
Michelina Edwards, 5th-grade Teacher
Patriot Elementary
Come prepared to learn! This information will not sit on a shelf in your classroom. You will be surprised at how much you want to implement what you've learned in your classroom. The Thinking Maps programs are what teaching and learning is all about!
Colleen C., Teacher
Thinking Maps Training has provided our students and staff with tools to help promote engagement and deeper levels of thinking. Each map strategically assists students in developing different literacy and problem solving skills and helps to organize and visually represent student thinking.
Justin W.
Woodridge School District #8
One of the things I loved about the Thinking Maps training is that you can literally get training one day and implement it in the classroom the next. That's huge.
Jennifer Foor, Principal
Pace Brantley Preparatory
I've noticed a huge change in how our students talk about their learning using Thinking Maps. Even at the preschool level, they are able to explain their thinking and why they are using a particular Map. We didn't see those kinds of conversations before.
Jane Moran, Executive Director
Lexington School for the Deaf
BUILDING THE FOUNDATION
About Thinking Maps
Thinking Maps is a whole-school, brain-based approach to teaching and learning designed to build foundational critical thinking, problem-solving, comprehension, and communication skills necessary for academic success. The Maps provide a shared visual "language for learning" for an entire school or district.
Thinking Maps are a set of eight visual patterns or icons that each represent a specific cognitive process.
Unlike graphic organizers, which are highly varied and inconsistent, the eight Thinking Maps are used consistently across all grades and content areas. This ensures that students develop automaticity with the major thought processes by using the Maps to engage the cognitive processes they represent.
As students build fluency with the Maps, they internalize these cognitive skills and learn how to become better learners, thinkers, and communicators.
---
REQUEST WHITEPAPER DOWNLOAD:
Example Applications
Each of the eight Thinking Maps can be used in a variety of ways across all content areas. Here are two examples.
Double Bubble Map
Learn More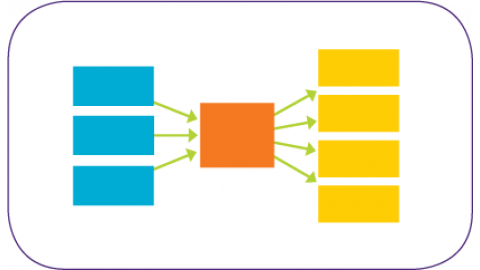 Multi-Flow Map
Learn More
MAXIMIZE ACADEMIC GAINS
Accelerating Learning for Every Student
When used with fidelity, Thinking Maps produces greater than average gains in academic performance in just one to two years. Thinking Maps accelerates academic gains by:
Increasing student ownership of learning
Increasing academic equity by helping students of all backgrounds and ability levels maximize learning
Improving teacher capacity to serve students of all backgrounds
---
Read The Research
Getting Started
Thinking Maps is not just another product or program. It is a whole-school teaching and learning methodology that supports everything else teachers do. The key to a successful implementation lies with the teacher. That's why our focus is on building the capacity of teachers to use and apply the Maps in the classroom.
Thinking Maps uses a training model built around Learning Forward's Standards for Professional Learning, including planning, initial training, follow-up training and ongoing support.
THINKING MAPS
Steps to a Successful Implementation
Orientation for school leaders, including development of a plan for implementation
Training for teacher leaders using the Training of Trainers materials
Rollout to all teaching staff with A Language for Learning guides for each teacher
Introduction of Thinking Maps to students in all classes
Ongoing training and support through the Thinking Maps Learning Community (TMLC)
VIRTUAL LEARNING
Thinking Maps Learning Community
The Thinking Maps Learning Community (TMLC) is a vital part of your Thinking Maps implementation and your online hub for Map creation, professional learning, planning and inspiration. We created TMLC to maximize student learning, improve teacher productivity and support professional learning communities.
Online Map Builder (Teachers & Students)
A web-based program that allows users to create Maps, lessons and assessments while enhancing writing skills.
Exercise & Assignment Management Tools
Monitor progress towards school and district learning goals and develop your Thinking Maps Plan of Action.
Professional Learning Courses & Resources
An expansive collection of 23 video-based Professional Development modules for anytime, anywhere learning.
Online Map Gallery (Exemplar Maps)
An ever-growing collection showcasing professionally vetted Maps across grade levels and subject areas.
CONTINUE YOUR JOURNEY
Advanced Training Options
Your initial Thinking Maps Training is just the beginning of your journey!
We offer advanced courses to build the capacity of your staff and maximize the impact of Thinking Maps.

Build a data-driven strategic plan to meet the needs of your teachers and students.
Meet the needs of English Learners (ELs) and students with language-based learning challenges.
Download Free Preview